Tours from Fes
Fes desert tours - Private & Group trips in Morocco
Our Morocco trips and Fes desert tours should impress you according to our team services. Therefore, We offer both private and group tours which are very popular when it comes to the cities of Morocco that people fly to, We are talking about Fes and Marrakech historical & cultural cities. Thus, Our TIM tried its best to customize and provides couples and families tours we even designed solo tours that can suit our client's requirements, If our tours don't match your requirements or for any other question don't hesitate to communicate with us.
Group & private desert tours from Fes: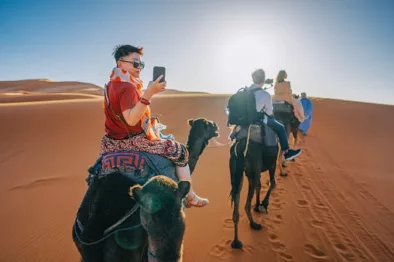 2 days tour from Fes to Merzouga desert
Group and private desert tour from Fes 2 days itinerary to Merzouga.
3 days tour from Fes to Marrakech
Join our 3 days tour starting from Fes and ending in Marrakech.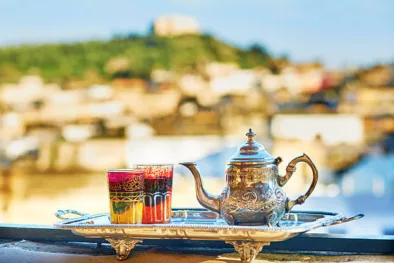 5% off
4 days tour from Fes to Marrakech
Fes to Marrakech within 4 days itinerary to discover the Sahara desert.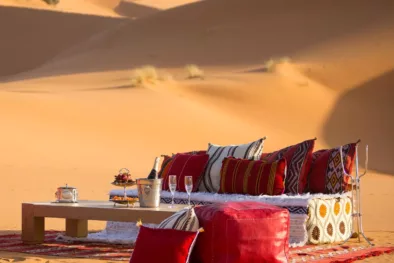 5 days tour from Fes to Marrakech
With Over Morocco Tours, your 5 days in Morocco from Fes is going to be amazing.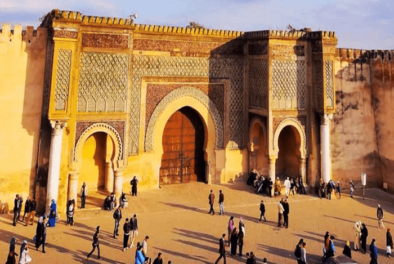 6 days tour from Fes to Merzouga desert
Book your 6 days tour itinerary from Fes to Marrakech now!
2 days tour from Fes to Chefchaouen
Fes to Chefchaouen within 2 days tour to discover the blue city of Morocco.
Morocco desert tours from Fes highlights:
During your Fes desert tours, You will have the chance to discover the city before we start our desert tour so you will see so many attractions in this city. it is referred to as the country's cultural city for so many reasons. Moreover, It is one of Morocco's cities. If you booked one of our tours in Fes you will have the chance to explore these attractions below:
Tombs and mausoleums: Located in the heart of Fes el-Bali, the Zawiya of Moulay Idris II is a zawiya (a shrine and religious complex; also spelled zaouia), dedicated to and containing the tomb of Idris II (or Moulay Idris II when including his shariffian title) who is considered the main founder of the city of Fes.
Zawiya of Sidi Ahmed al-Tijani, which commemorates Sidi Ahmed al-Tijani, the founder of the Tijaniyyah tariqa from the 18th century
Tanneries: Since the city's foundation, the tanning industry has been continually operating in Fez and is considered one of the main tourist attractions. There are three tanneries in the city, the largest among them is Chouara Tannery near the Saffarin Madrasa along the river.
Note! there are so many places to visit during your stay, we just resuming it in the description…
With our Fes desert tours you will discover Chefchaouen:
Chefchaouen: is a city in northwest Morocco. It is the chief town of the province of the same name and is noted for its buildings in shades of blue. Therefore, it attracts many tourists because of its blue walls and traditional souks with majestic mountains and more beautiful things below:
If you choose our Fes desert  tours, 2 days to Chefchaouen you will discover these places below:
The shopping of the old City and Medina in this beautiful blue town is one of the biggest tourist attractions. More, It might not be as varied or grand as in the larger cities of Fes, Marrakech, and Casablanca but Chefchaouen has a mesmerizing traditional souk.
Cascades d'Akchour: Beyond the blue streets, there's a surplus of mind-blowing natural scenery around the town. Approximately 30 minutes by taxi from the center lies a tempting tourist trail which, after a beautiful walk, leads to stunning waterfalls. The waters are in keeping with the town's blue themes. While in the area, look out for the awe-inspiring Bridge of God, a rock arch spanning the river.
Hike in the Rif Mountains:  For an even greater appreciation of nature, hike in the Rif Mountains and admire the town from above with unbeatable panoramic views. Then,  less known than the Atlas Mountains but just as beautiful, these peaks rise high above the Mediterranean and have some of the best hiking routes in Africa. Therefore, many options when hiking in the Rif.
Plaza Uta el-Hammam: "Plaza Uta el-Hammam has a blend of Arab and Spanish influences, seen in the fantastic food served both on the streets and in the nearby restaurants. A pretty central point in town, it's the ideal spot to relax and admire the majestic mountains, while indulging in a spot of people-watching.
With Morocco desert tours from Fes, you will discover Ifrane:
When choosing one of our desert tours from Fes, Group or Private ones. You will discover the city of Ifrane.
Firstly, we will leave Fes throughout the Middle Atlas mountains to reach Ifrane. This latter is the finest in Africa and the eighth worldwide. The tourist attraction there is what is called the city garden. A beautiful green area with a statue of a white lion. It was carved during the second world war by German prisoners.  Ifrane was a camp of soldiers, as mentioned the statue of the lion was carved by a German soldier to get his liberty.
Not to mention, Ifrane also has a rich history and cultural heritage. The city is home to several important historic sites, such as the Al-Akhawayn University and the Sidi Abdeslam Mosque. Therefore, the city is also known for its traditional architecture, which features distinctive red-roofed buildings and intricate wrought-iron balconies.
Another thing that you would love to do is skiing. Considering Ifrane is the coldest in Morocco, it gets snow in the months of winter. That is to say, there are many ski clubs and companies that can get you an unbelievable experience.
Our desert tours from Fes, Group and Private tours will lead you to discover the Ziz Valley:
If you want to explore the beauty of the Moroccan desert, a desert tour from Fes is an excellent option. One of the fantastic destinations that you will come across on your journey is the Ziz Valley. This location is famous for its striking landscapes, which you can admire while traveling through the region.
The Ziz Valley is a 45 km long river oasis filled with abundant palm groves that create a lush green environment in contrast to the surrounding desert. It is surrounded by stunning mountain ranges that enhance its panoramic view and provide a serene environment for travellers. Along with the natural beauty, the Ziz Valley also has a rich history waiting to be explored. The ancient ksar of Aoufous is one of the historical sites worth a visit.
On a desert tour from Fes, you will have the opportunity to enjoy peaceful tranquility, soak in stunning scenery, and learn about Morocco's culture and history.
Explore Erfoud with our Private and Group desert tour from Fes:
Our Fes desert tours to Merzouga will lead you to discover many attractions, among them, there is Erfoud, in southeastern Morocco, which is known for its desert landscape, palm trees, and Saharan experiences.
 It has a rich history as a trading post with old kasbahs and a local market showcasing the culture and handicrafts of Morocco. Fossil beds, dating back millions of years, are also a draw for tourists, with an annual festival celebrating the local people's traditions and culture. Therefore, Erfoud is a fascinating destination with natural wonders and unique experiences.
The amazing camel ride with our Fes desert tours:
Our Fes desert tours offer a unique experience to explore the Moroccan Sahara desert through glamping and a camel ride. Glamping, a combination of glamour and camping, allows you to stay in luxurious tents equipped with comfortable beds, private bathrooms, and even air conditioning. This way, you can still enjoy the beauty of the desert without sacrificing comfort.

In addition, you will get a chance to experience a traditional camel ride, which is an unforgettable way to traverse the picturesque sand dunes. Camels have been used for transportation in the Sahara desert for centuries and offer a unique perspective on the landscape. As you ride through the desert, you will witness the stunning scenery and might even catch a glimpse of the local wildlife.

Overall, our Fes desert tours offer a perfect blend of adventure and relaxation. You can indulge in the luxuries of glamping while still immersing yourself in the authentic Moroccan culture.
Merzouga is a small village located in the southeast part of Morocco, known for its mesmerizing Saharan landscape and sand dunes. That is to say, visitors can have a unique experience by going on a 4×4 discovery tour around the area. 
The tour includes visiting nearby oases, cruising through the Erg Chebbi sand dunes, and experiencing Berber culture by visiting local villages. The tour is perfect for adventure enthusiasts who enjoy off-road driving and spectacular views. 
Riding a 4×4 car through the desert gives an excellent opportunity to witness the beauty and vastness of the Sahara, creating unforgettable memories. Moreover, with the assistance of an English-speaking guide, travelers can learn more about the history and culture of the area while enjoying the stunning landscape.
 Overall, exploring Merzouga through a 4×4 tour is a thrilling experience that should not be missed.
The irrigation system close to Fezna:
"Our Fes desert tours are an incredible adventure that will take you to explore the beautiful landscapes and stunning water irrigation systems in Fezna. As our journey through the desert, we will marvel at the breathtaking scenery and learn about the fascinating history of this ancient land.
Our knowledgeable guides will lead you on an unforgettable adventure, taking you to places that you have never seen before. Moreover, you will have the opportunity to experience the local culture and traditions of the Berber people, who have lived in this desert oasis for centuries. Whether you are a nature lover or a history buff, our Fes desert tours are sure to amaze you. Don't miss out on this once-in-a-lifetime experience!"
Private and Group desert tours from Fes will lead you to discover Todgha Gorges:
The Todgha Gorges in Tinghir, Morocco, are natural wonders that should not be missed. This latter is located in the eastern part of the High Atlas Mountains, the gorges were formed by the Todgha River as it cut through the pink limestone, creating a narrow, steep-sided canyon. Not to mention that the canyon walls rise up to 400 meters high, providing an awe-inspiring sight for visitors.

Hiking through the narrow passageways of the gorges is a popular activity for tourists, and there are also opportunities for rock climbing and bouldering. The area is also home to several Berber villages where visitors can experience traditional Moroccan culture and hospitality.

One of the best times to visit the Todgha Gorges is during the cooler months of October to April when the weather is more conducive to hiking and outdoor activities. Overall, the Todgha Gorges offer a unique and memorable experience for anyone visiting the Tinghir area.
Explore Dades Gorges and T'issdrin curves:
 After visiting the Gorges of Todgha in Tinghir, Our Fes desert tours Group and Private will take you to Boumalne Dades. This latter is one hour away from Tinghir we will be exploring the Gorges of Dades and T'issdrin curves a fascinating geological formation located near Boumalne Dades in Morocco. First, these narrow gorges were formed over millions of years by the action of the Dades River, which has carved its way through the surrounding rock formations to create a stunning natural landscape.
The Gorges of Dades are particularly impressive, with towering cliffs rising on either side of the riverbed. The T'issdrin curves, on the other hand, are a series of hairpin bends that wind through the surrounding mountains, offering visitors breathtaking views of the surrounding valley.
Therefore, visitors can explore the gorges on foot or on horseback, marveling at the stunning rock formations and unique plant life that thrives in this harsh environment.
Visiting Roses Valley with our Fes Morocco tours:
Visiting the Rose Valley in Morocco is a breathtaking experience located in the High Atlas Mountains. The valley is known for its picturesque views of thousands of blooming roses. The best time to visit the Rose Valley is in May during the rose harvest season. Visitors can witness the traditional methods of extracting precious rose oil and attend the annual Rose Festival featuring live music, dance performances, and exhibitions.

During your visit, take a leisurely stroll throughout the countryside, meeting friendly locals, and enjoying the local cuisine. Visitors can also explore nearby Berber villages and their unique lifestyle. The Rose Valley is an excellent destination for nature lovers and those seeking a relaxing retreat away from the hustle and bustle of city life. Don't forget to snap photos of the stunning rose fields and bring back some rose products to remember your visit.
Tours from Fes to discover Ouarzazate's attractions:
 When booking our Fes Desert Tours Group and Private itineraries you will be amazed by visiting Ouarzazate. This latter is known for its impressive film industry and stunning natural landscapes. It is commonly referred to as the "doorway to the desert" since it is situated near the edge of the Sahara. The city is home to several film studios and has been the location for many famous films such as Gladiator and Lawrence of Arabia.

In addition to its film industry, Ouarzazate is a popular tourist destination. Visitors can explore its traditional markets, ancient Kasbahs (fortified dwellings), and nearby natural wonders such as the Draa River and beautiful sand dunes. The city also offers a variety of outdoor activities, including hiking, horseback riding, and camel trekking.

Overall, Ouarzazate is a must-visit destination for those interested in experiencing the vibrant culture and natural beauty of Morocco.
Ait Ben Haddou Kasbah and village:
Ait Ben Haddou is an old village in Morocco that is protected as a UNESCO World Heritage Site and is very famous. It is located in the Atlas Mountains. Therefore, the village is made of clay and straw, and it's really old. There are many small houses which are connected by narrow paths and stairs. Thus, visitors can climb to the top to see the mountains and valley around. There are also shops that sell traditional things from Morocco. You will be amazed by the history and the skill of the people who built this special place.
Desert tours from Fes to discover Marrakech city:
A day-guided tour of Marrakech is an excellent way to discover the city's numerous attractions and immerse yourself in Moroccan culture. A typical tour starts in the morning and involves visiting some of Marrakech's most popular sights, including the bustling Djemaa El Fna square, the beautiful Bahia Palace, the vibrant souks, and the Koutoubia Mosque. You'll also have time to explore the Saadian Tombs and the Medersa Ben Youssef, an ancient Islamic school that dates back to the 14th century.

Along the way, your guide will provide insightful commentary about the city's rich history and culture, and introduce you to the locals, who are friendly and welcoming. You'll have the opportunity to taste authentic Moroccan cuisine, smell the fragrant spices and explore the colorful marketplaces. By the end of the day, you'll leave with a deeper appreciation of Marrakech's beauty and unique charm.
Exploring Meknes's attractions:
The main attraction in Meknes is the Medina, which is a UNESCO World Heritage site. Firstly, the medina features beautiful architecture, intricate mosaics, and traditional Moroccan markets. Another popular attraction is the Mausoleum of Moulay Ismail, a magnificent tomb built for the famous Moroccan leader. Other must-visit sites include the Bab el-Mansour gate, a beautiful ornate gate, the Dar Jamai Museum, which showcases Moroccan art and culture, and the El Hedim Square, a bustling public square featuring street performers and market stalls. For those interested in learning more about the history of Meknes, a visit to the ruins of the Roman city of Volubilis, located just outside of the city, is a must-visit.
Related Tours To Fes Private, Group Desert Tours.