Home
Over Morocco Tours, travel Agency in Morocco for Customized Desert Tours
About Over Morocco Tours Travel Agency:
Over Morocco Tours, is a travel agency in Morocco that has customized tours from Marrakech, Fes, Tangier, and Casablanca—created by our team to be the most trustable and successful one. Moreover, Over Morocco tours aim to achieve peace of mind and satisfy our guests by providing the fit conditions to reach their comfort. 
Our agency was built in 2012, We were working on a small project to help tourists discover the desert. Camel trekking was our way, We provided trips around and across the desert. After years of hard work, a plan knocked our brains, That we thought we could make our small agency bigger and more famous. Since we are doing well in the desert. Over Morocco Tours, will surely be able to succeed in making tours from all over the imperial cities of Morocco. 
Our travel agency is a tourist company managed by local guides and drivers in addition to skillful programmers, Based in Marrakech. More than that with us you can choose to start your trip from all airports in Morocco, Our drivers and guides will pick you up where ever you are, All these characteristics have made our travel agency ranked first among millions of companies. we would be much happy to help you make your Morocco tour experience unforgettable.
Why choose Us as a Travel operator for Morocco tours:
Specialized knowledge: Our travel agency can offer insights into the local culture, customs, and attractions, which might not be accessible to tourists traveling independently and you will always be accompanied by our professional guide to answer all your questions in detail.
Hassle-free arrangements: We are a reputable travel agency with that being said, we can always handle all the logistics, such as booking transportation, accommodations, and tours, and leaving the client to relax and enjoy their trip.
Personalized itineraries: Our travel operators can tailor-make an itinerary that meets the client's needs, preferences, and budget, taking into account factors such as time, interests, and safety.
Assistance in emergencies: Our travel agency can provide 24/7 support and advice if unforeseen situations arise, such as flight cancellations, lost luggage, or medical problems.
Local connections: Over Morocco Tours, can offer exclusive access to local guides, restaurants, and experiences that might be off the beaten path or hard to find on your own.
Value for money: We can negotiate group discounts, package deals, and promotions that can save the client money while still providing excellent service and quality.
We Are Highly Recommanded On Tripadvisor
Traveling to Morocco can be more comfortable when you are doing it alone", especially with our team. what's your next destination?
What defines couple tours from other kinds is that you share awesome things with the closest person to your soul. Invite your best friend now!
Over Morocco tours, an agency can manage family tours in the best conditions, which can make all the family members satisfied!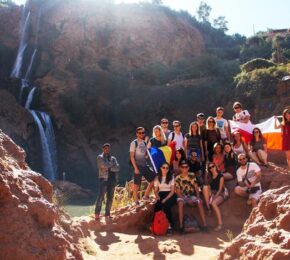 Our travel agency manages group tours, To enjoy the most unforgettable experience with us. With whom you would love to travel?
Are You Willing To Visit Morocco And Your Passion Is On Travelling, Over Morocco Tours Is Your Right Bath to discover this land? Check your best itinerary below!
Over Morocco Tours, customers reviews:
"We are two 22-year-old girls traveling in Morocco for the first time. We booked a private Desert Tour for 7 days and 6 nights, where we traveled from Marrakech to Dades gorge, the Sahara, Fes, Chefchaouen, Rabat, Casablanca, and then back to Marrakech. The agency is locally owned and the price for the trip was cheaper than other international agencies. With that being said, we were accommodated in star-rated hotels/riads and a luxurious desert camp where we felt very comfortable and safe. It was unquestionable that this trip was good value for money."
"Our trip to Morocco was so fun, we absolutely will never for get our experience. what is more beautifull about it is the kind and godness of people a lot of moroccan, are so gental and cute they are speading the peace and the name of god everywhere,Also we loved the desert part while riding our friendly camels to the camp such an amazing trip i will be thankful for Over morocco tours for showing us Morocco"
"this one on the best travel agency I have ever seen in my life, I had booked a tour of 3 days to the sahara desert. that was a wonderful trip with efficient, responsible, professional always on time in addition to very clean hotels i really recommend this site i really enjoyed the sunset and the sunrise or the big dunes in the Sahara desert."
I and my girl went to Morocco for our honeymoon, this wasn't planned but trust me this land has shown us so romantic Places that even we couldn't imagine especially the Sahara desert. I and my girl got lost in the beautiful desert with our camels so beautiful nature I want to travel again".
Absolutely amazing experience through Morocco and the Sahara Desert. This is hands down one of my favorite trips ever and not to mention so affordably!!!! I arrived in Morocco in just three days and this tour and with the help of our amazing driver Abdul allowed me to get the full experience. Visiting local villages, the Atlas mountains, scenic stops, great food, ATVs, Camel riding, sand boarding, campfires, and more. I recommend this tour to everyone I know looking to visit. It is a MUST!!!
It was an amazing experience! We got to see so many things. It was just incredible! I really liked our driver Younes and our guide Hassan. They really made this experience even better! It is tiring yes, but you get to see so many amazing things. I would definitely recommend it. The food was great just like the stays! I was hesitant at first to book the tour but I'm so glad we did it! I recommend having enough space on your phone because you'll have a lot of pictures at the end of this trip!
Over Morocco Tours Travel Agency Highlights:
Over Morocco, tours your best travel company organized Morocco desert tours. Our tours experience is managed to provide the most incredible views with high-quality background, exploring Morocco cities, imperial cities, trying the most chilling out roads, more than that you are going to ride camels in the Sahara desert to see the magical starry sky at night in the middle of the dunes, from the south to west to meet beautiful and pure people also tasting the fresh food of it. discover the beauty of Moroccan local life from different views.
Marrakech, also known as the Red City, is a destination that should not be missed when visiting Morocco. The city is surrounded by beautiful red walls, giving it a unique and stunning appearance. Therefore, it has bustling markets, vibrant colors, and a rich cultural heritage. Visitors can explore the maze-like streets of the Medina, visit the breathtaking Koutoubia Mosque. This latter, has a local cuisine at the famous food stalls in Djemaa el Fna Square. The city is also a hub for artists and creatives, with numerous galleries and studios showcasing the vibrant local art scene. In general, Marrakech is a city that offers visitors a plethora of experiences, from relaxing in a traditional hammam to haggling in the souks. To sum it up ,i t is a destination that will leave visitors feeling inspired and enamored by the beauty of Moroccan culture.
A city in northern inland Morocco and the capital of the Fès-Meknès administrative region. It is the third largest city in Morocco, with a population of 1.15 million according to the 2014 census. Located to the northeast of the Atlas Mountains, Fez is linked to several important cities of different regionsFez was founded under Idrisid rule during the 8th-9th centuries CE. It initially consisted of two autonomous and competing settlements. Successive waves of mainly Arab immigrants from Ifriqiya (Tunisia) and al-Andalus (Spain/Portugal) in the early 9th century gave the nascent city its Arab character. After the downfall of the Idrisid dynasty, other empires came and went until the 11th century when the Almoravid Sultan Yusuf ibn Tashfin united the two settlements into what is today's Fes el-Bali quarter.
The capital city of Morocco and the country's seventh largest city with an urban population of approximately 580,000 (2014) and a metropolitan population of over 1.2 million.
Rabat was founded in the 12th century by the Almohad ruler Abd al-Mu'min as a military town. The city steadily grew but went into an extended period of decline following the collapse of the Almohads.
In the 17th century, Rabat became a haven for Barbary pirates. The French established a protectorate over Morocco in 1912 and made Rabat its administrative center. Morocco achieved independence in 1955 and Rabat became its capital.
One of the four Imperial cities, located in northern central Morocco and the sixth largest city by population in the kingdom. Founded in the 11th century by the Almoravids as a military settlement.
Meknes became the capital under the reign of Sultan Moulay Ismaïl (1672–1727), son of the founder of the Alaouite dynasty. Moulay Ismaïl created a massive imperial palace complex and endowed the city with extensive fortifications and monumental gates.