5 days tour from fes to merzouga desert
Our Stunning 5 Days Desert Tour Is Designed By Our Team And Can Be Modified Under Our Customer's Needs Contact Us For More Pieces Of Information About Your Next Destination.
5 days from fes to the Sahara desert overview:
 your 5 days tour from Fes is your Morocco itinerary to discover the Sahara desert of Morocco rarely with the best travel agency Over Morocco tours. As usual, our 5 days start and end in Marrakech, If you would like to end somewhere else. For instance, start from Fes and end in Fes you must declare it at first.
 with that being meant, our desert tour starts with picking you up from Fes directly to the desert, crossing the High and Middle Atlas Mountains, Our first stops will be at Switzerland of Morocco and cedar forest before continuing to Midelt to have a break for lunch. Later on, We drive towards the desert to ride camels and do camping in the middle of the dunes. Last but not least, On the second day, We will take the 4×4 car to discover the desert and its surroundings, Before ending your trip in bustling Marrakech.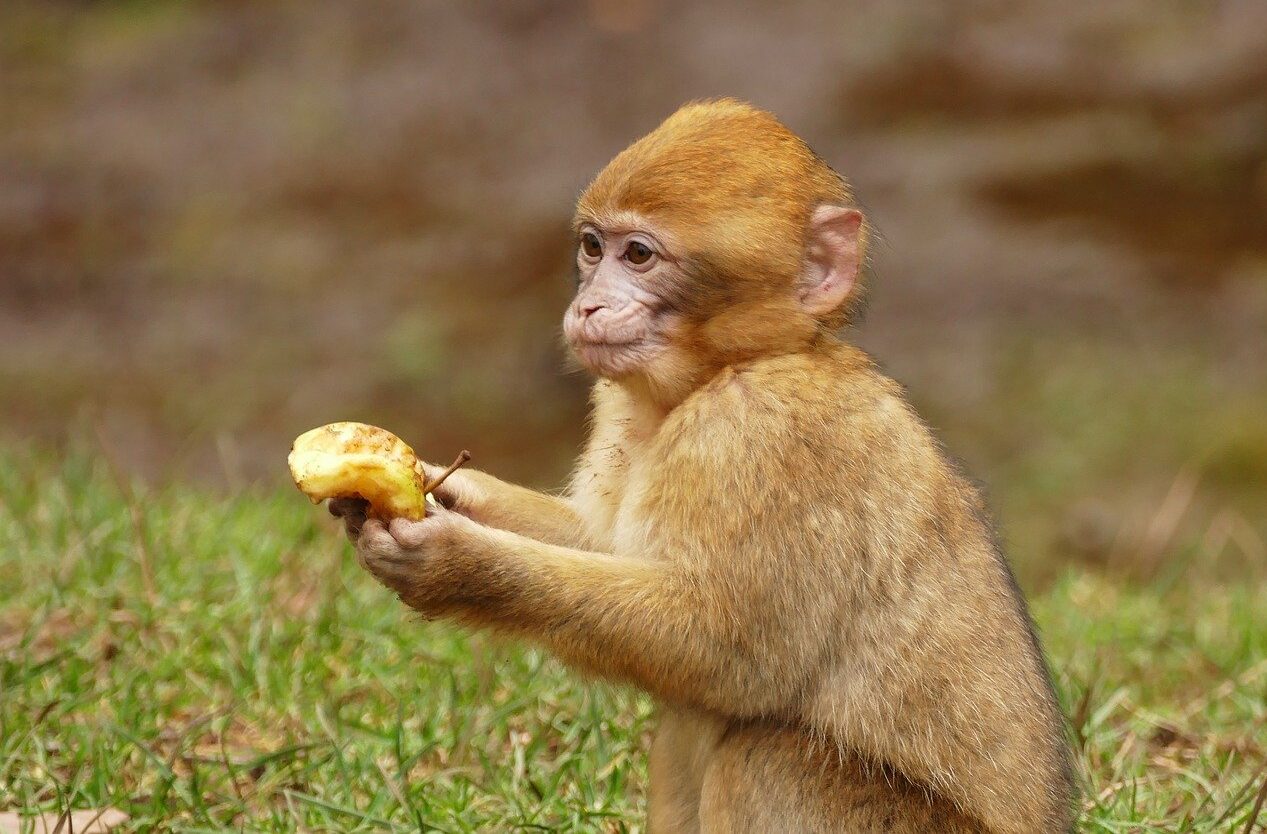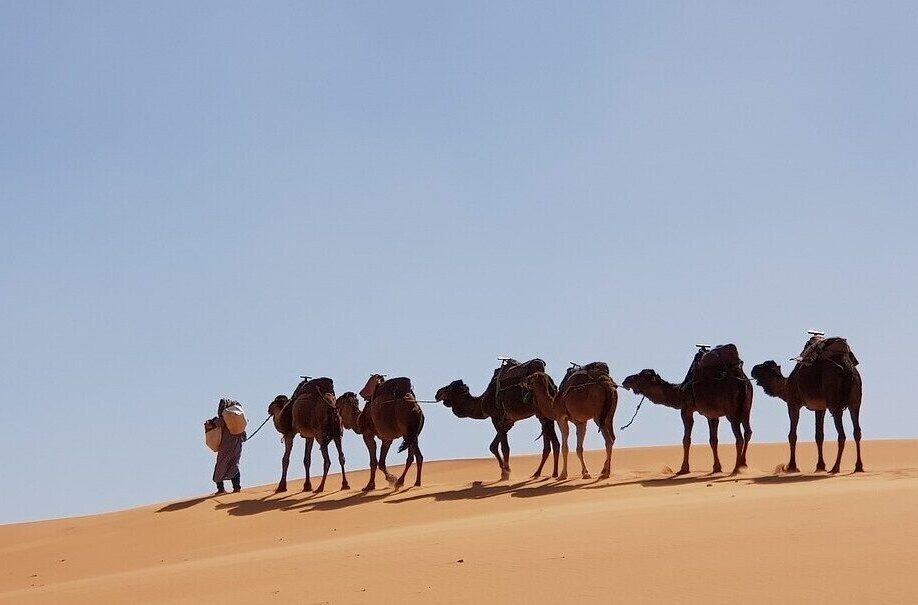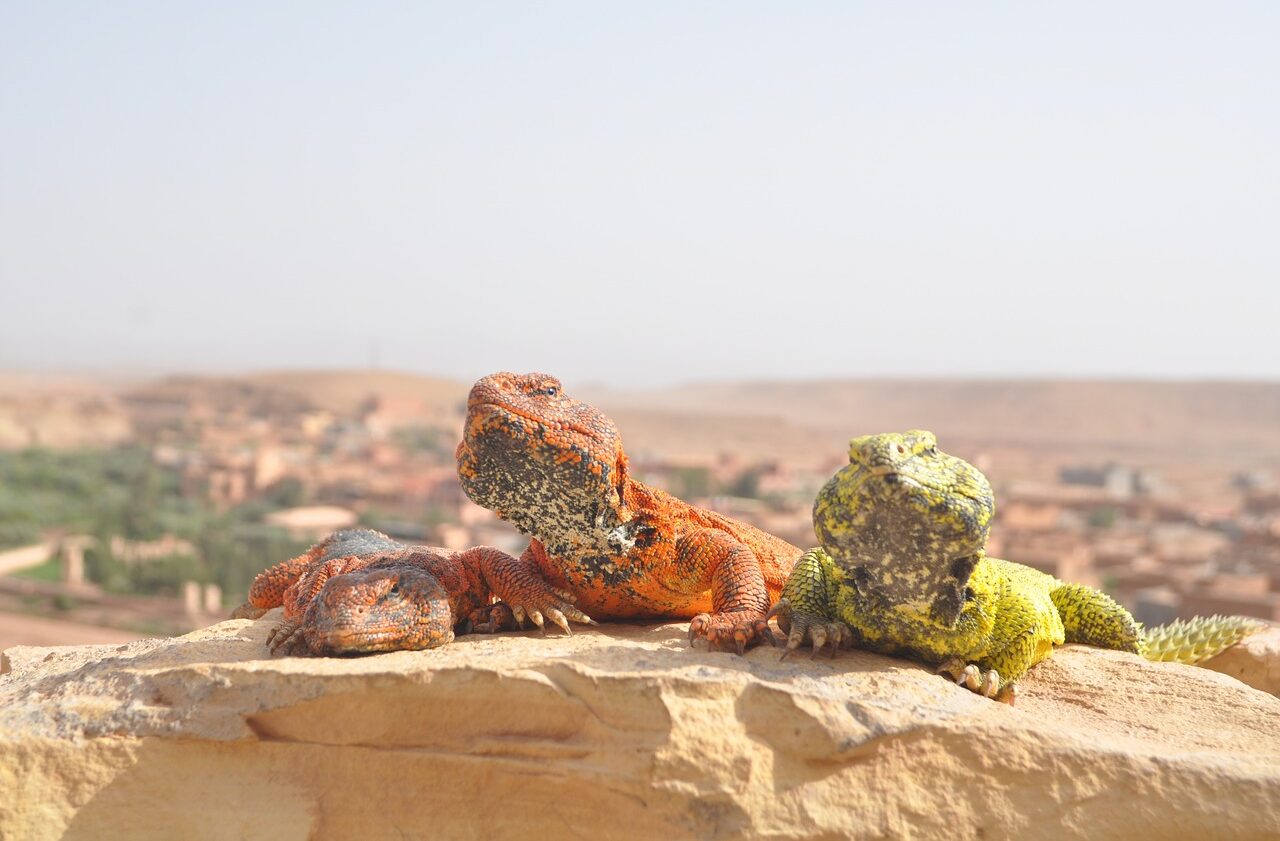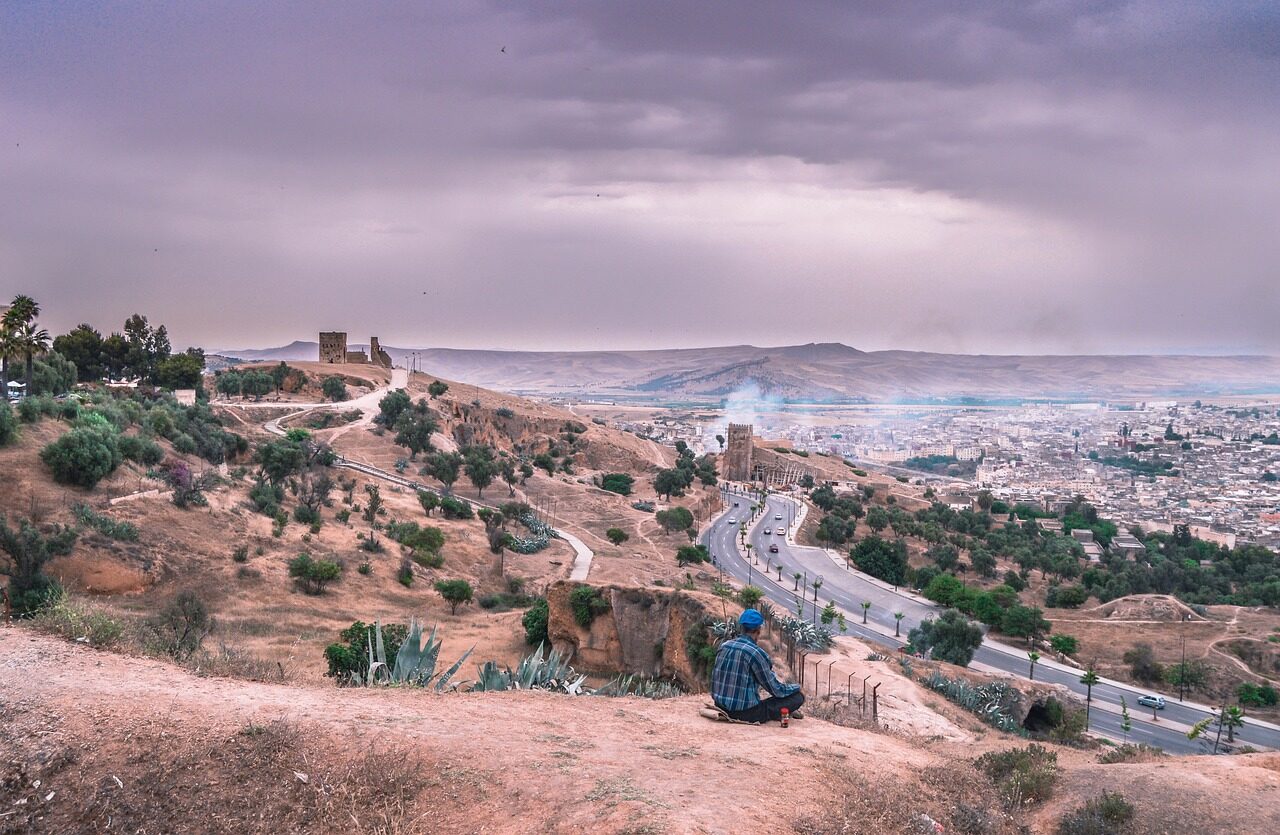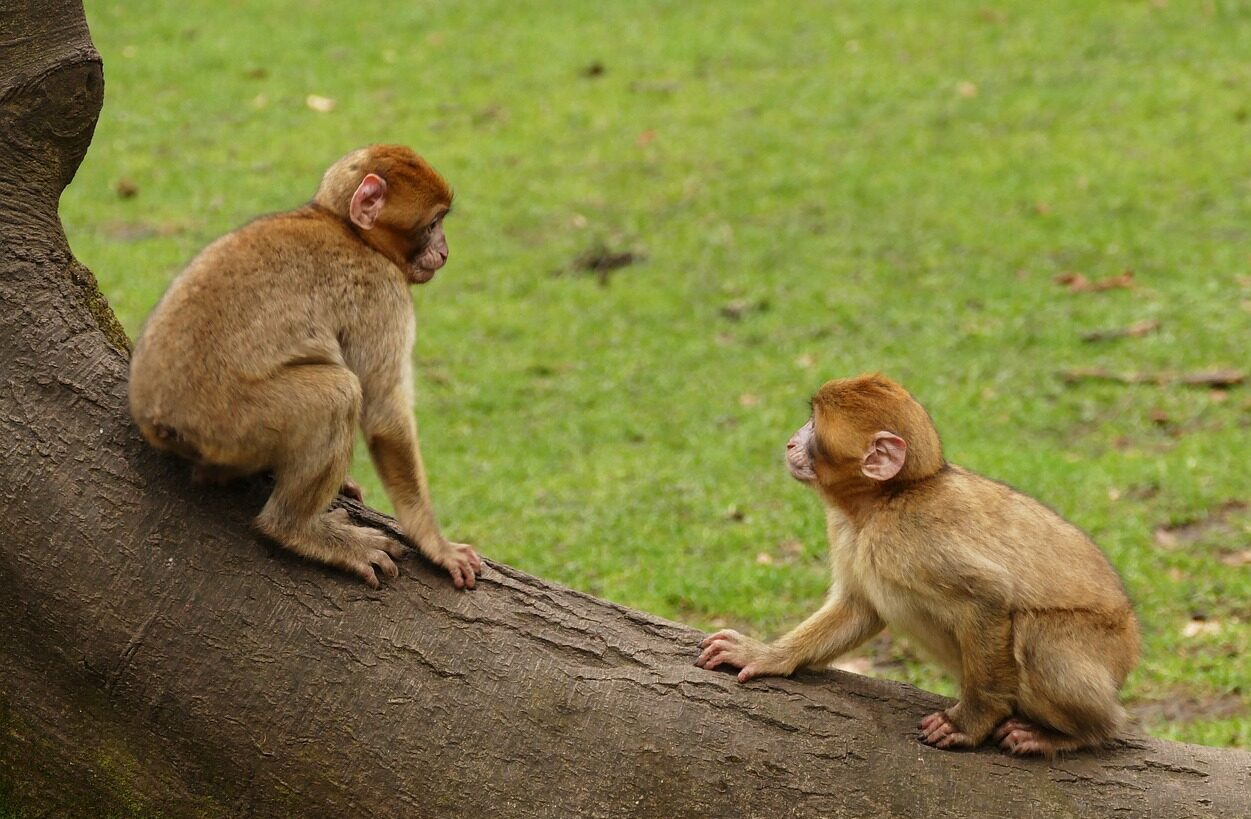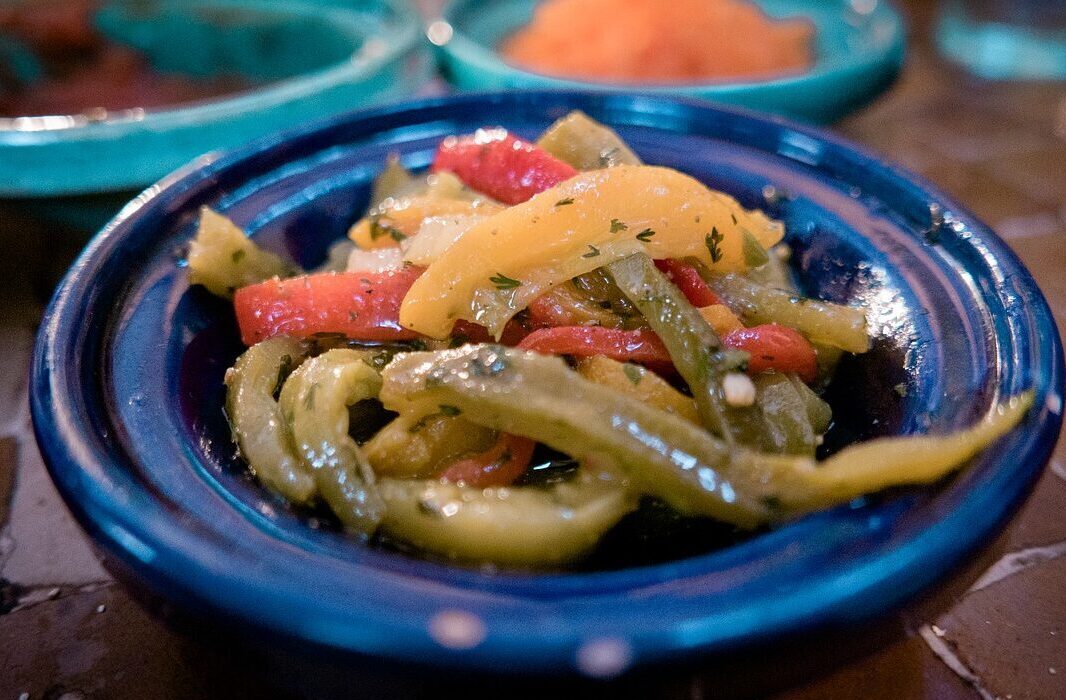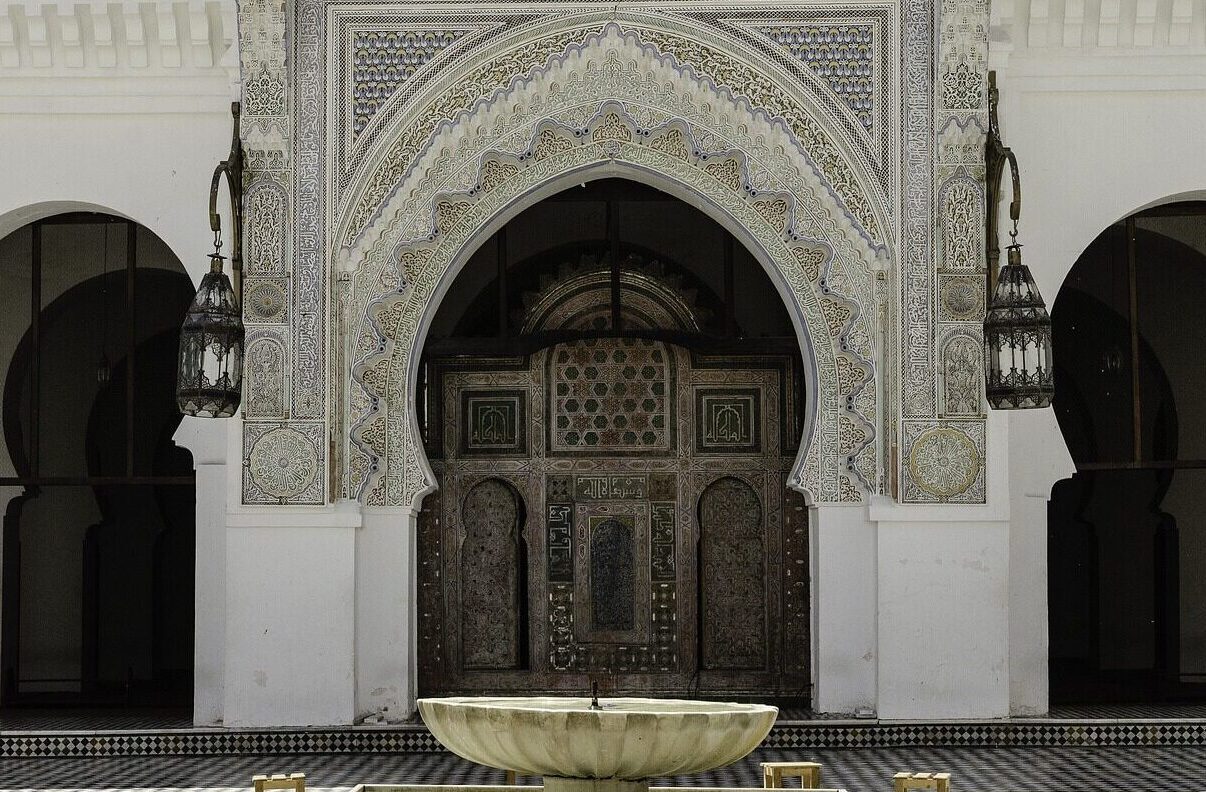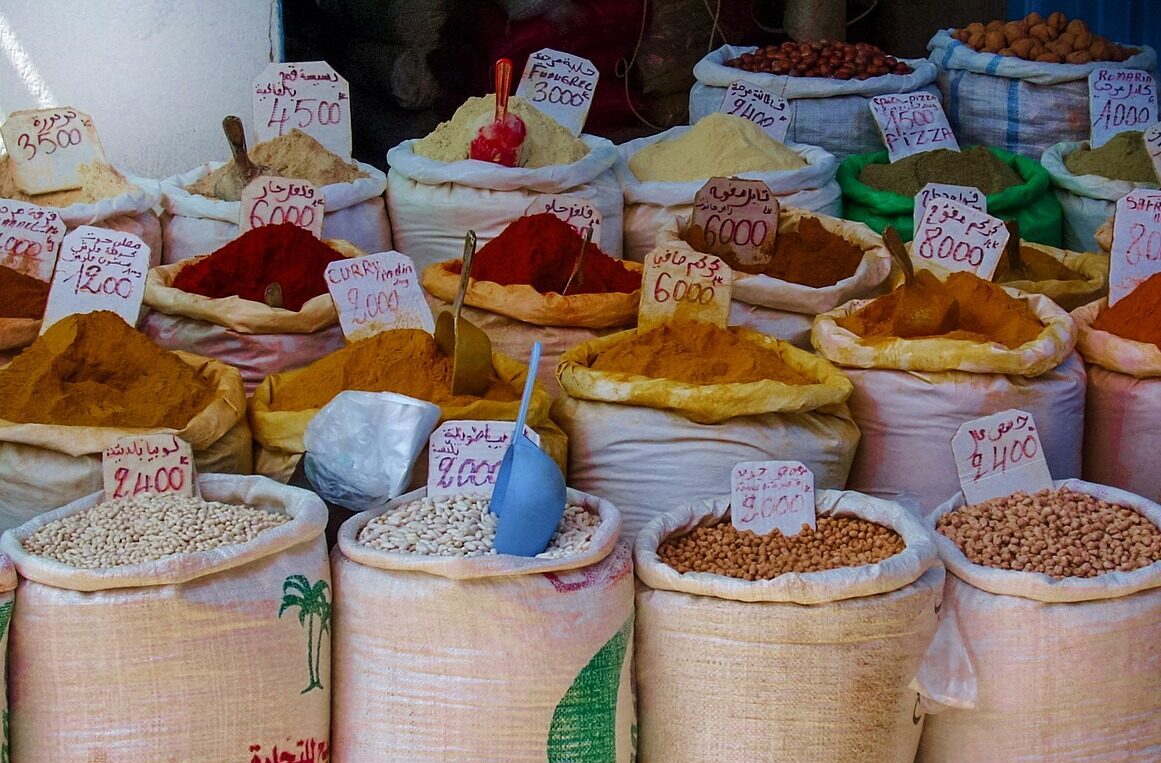 day 1: fes - ifrane - erfoud - merzouga desert:
The first day of our itinerary tour will start at 8:30 a.m from your accommodation in Fes and start your 5 days Sahara desert tour from Fes to Merzouga, We will hit Ifrane directly, known as the Switzerland of Morocco to enjoy its beauty and to have memorable pictures. After that, we will head towards Azrou to see the monkeys in the cedar forest. Continuing to Midelt for a lunch meal. 
 In the afternoon, we will cross the pass of TIZI N TALGHAMT to reach Errachidia while admiring the scenery Later on, we will stop for a panoramic view of Ziz valley. The drive continues to Erg Chebbi dunes passing by Aoufous and Erfoud famed for fossils and dates. After that we will continue to the captivating dunes of Erg Chebbi, these dunes are called also Merzouga Dunes. Arrive at the hotel and get ready for a camel trek for one hour and a half to enjoy the sunset, try sandboarding if that's an activity you are interested in, take pictures and enjoy the views… after the sun goes down your camel ride continues to the camp where you will be welcomed with a glass of mint tea, delicious dinner, listen to the Berber drumming music, watch a sky full of bright stars and then spend a night at the desert camp.
day 2: merzouga desert - 4x4 tour :
our second day of five days tour to Sahara desert is a special day, we will start from your accommodation in Merzouga your driver will pick from your hotel, why this day is so special because we are going to discover the desert surrounds, firstly we will see the Sahara museum, owned by Qatar man. Moreover, it is famed for old cars. secondly, we will visit a Berber village which is called "Khamlia" it is a small village at the edge of the desert where most of its people immigrated from the south and middle of  Africa like "chad" and" Nigeria" you are going to taste their mint tea and enjoy their traditional music which called "Gnaoua".
After you get to know the story we are going to a beautiful place near the Algeria borders, where we will travel to the 19 century to see two villages of  French people while the French occupation.
thirdly your driver will pick you again to discover the nomad's life. you will see so many tents which considered their home town, furthermore, you will see how the transportation and their simple way to make fresh food also their handcrafts stuff. to sum it up you will across the dunes of the Merzouga desert back to your hotel where you will relax and spend your night.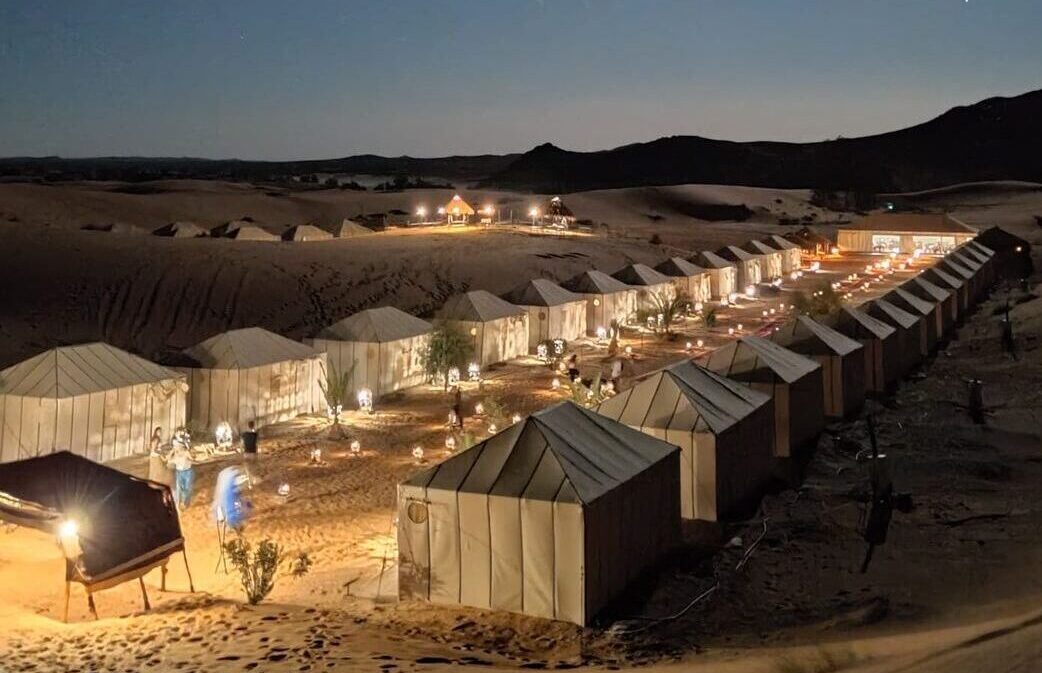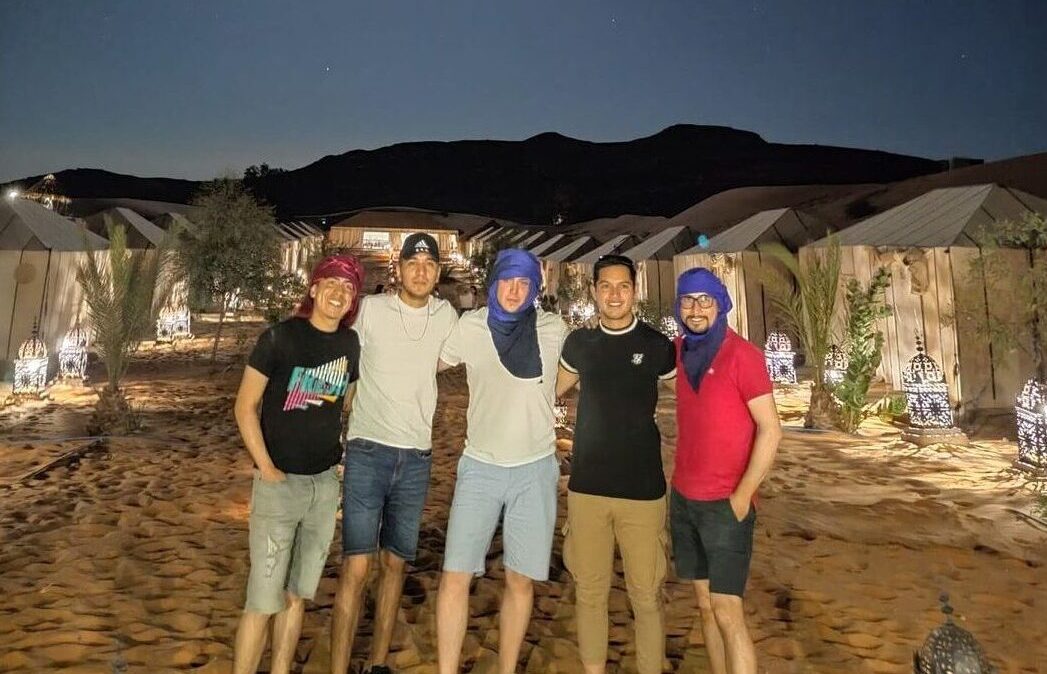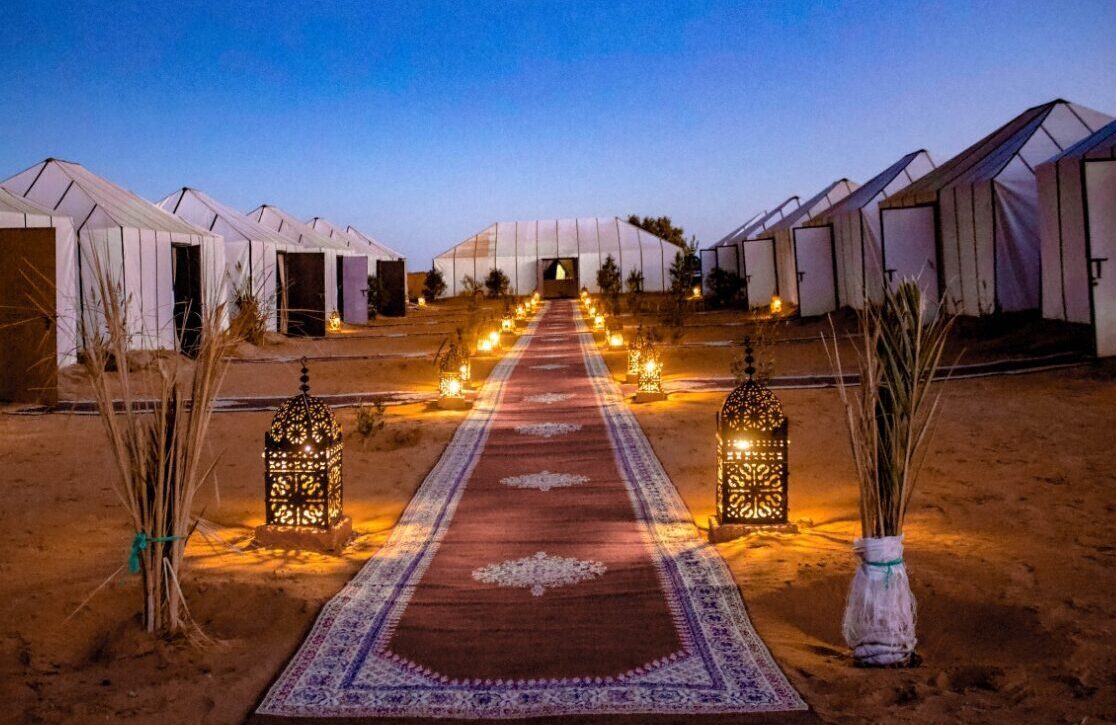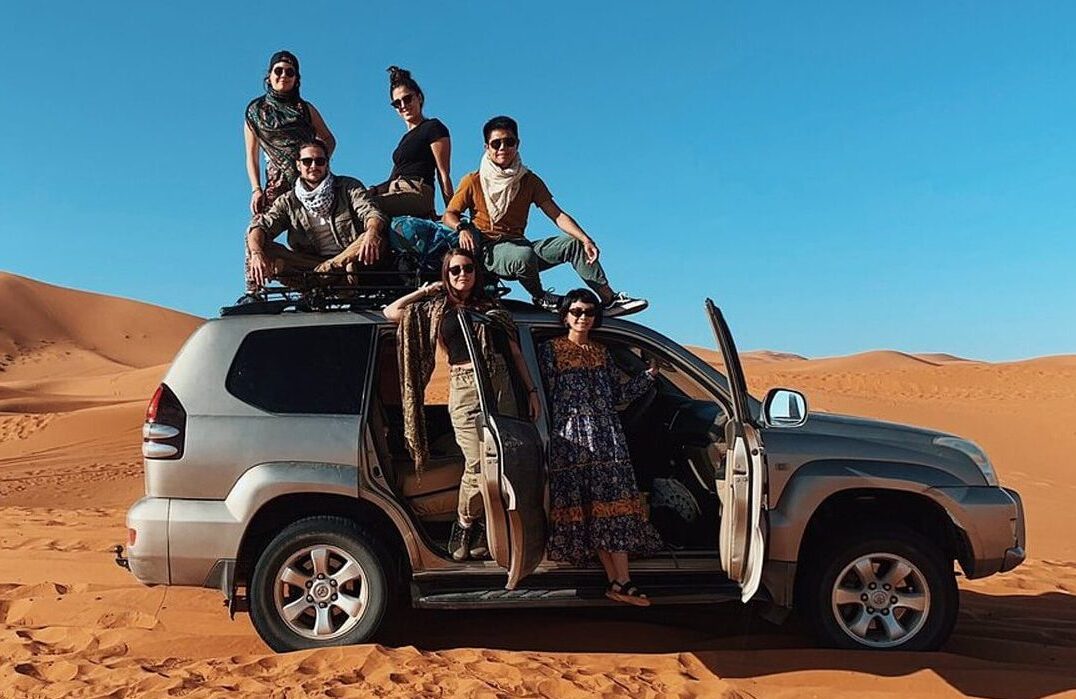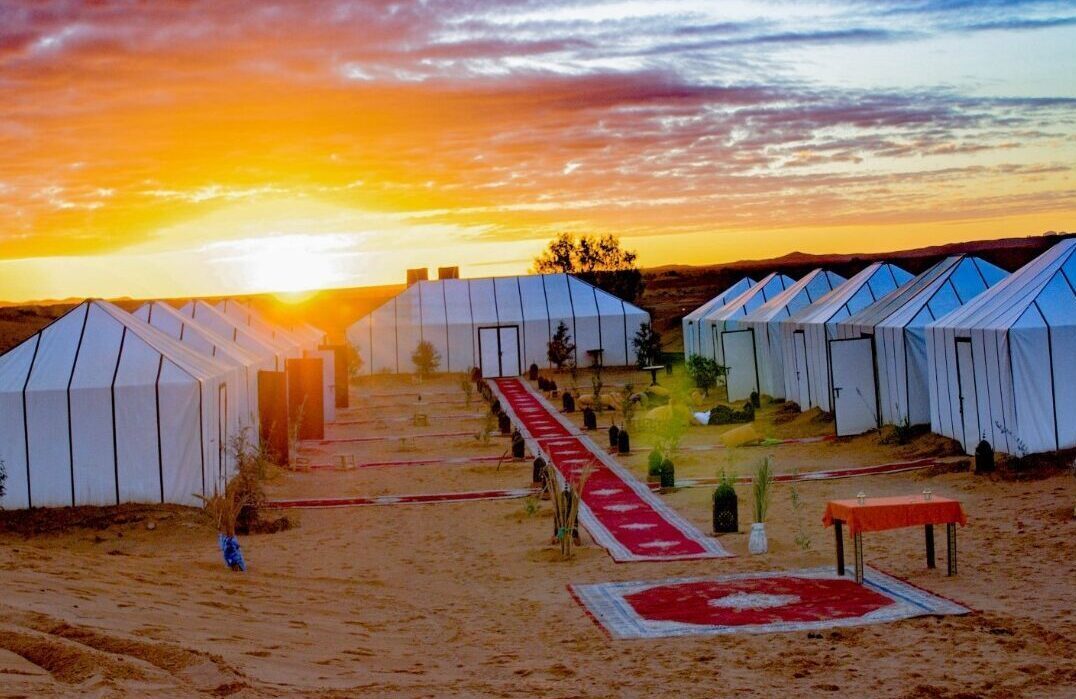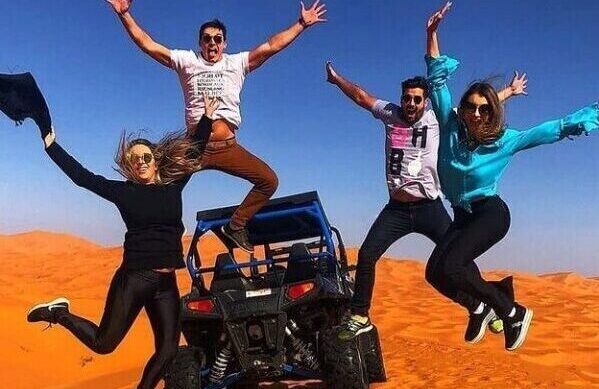 day 3: merzouga desert - rissani - Todra gorges - dades gorges :
Today we'll open your eyes in the hotel, After having breakfast. We'll leave to Erfoud, a city known for its Fossils, by crossing the Oasis of Tafilalt, until we reach Todra gorges, passing through a series of limestone river canyons, where you will have free time for lunch in a local restaurant and take a walk along the gorges. Then hit the road to Dades Gorges, that you'll be amazed by its spectacular rock formations, fortified villages, and spectacular landscapes. dinner & overnight in your hotel.
Day 4 : Dades Gorges – Roses Valley – Skoura – Ouarzazate – Ait Ben Haddou :
Departure from Dades Gorges to Ait Ben haddou, passing by Kalaat M'gouna "Roses Valley", with its very animated nature, then head to Skoura, with its palm groves, without forgetting the visit of The kasbah Amridil. Continue our way along the road of one thousand kasbahs to Ouarzazate, with a short visit to The Kasbah of Taourirt and cinema studios. After we'll head directly to Ait ben haddou. Dinner & overnight in the hotel.
Day 5: Ait Ben Haddou – high Atlas Mountains – Marrakech:
Today after breakfast, we're leaving through Marrakech, crossing the High Atlas Mountains via the highest road pass in the country of morocco Tizi Ntichka (2260m) high, enjoying impressive views of mountains, valleys, and many Atlas Berber villages. Arriving at Marrakech by evening, then take you to your hotel or any point you like. This will be the end of your 5 days desert tour from Fes to Marrakech via the Sahara desert of Merzouga.