---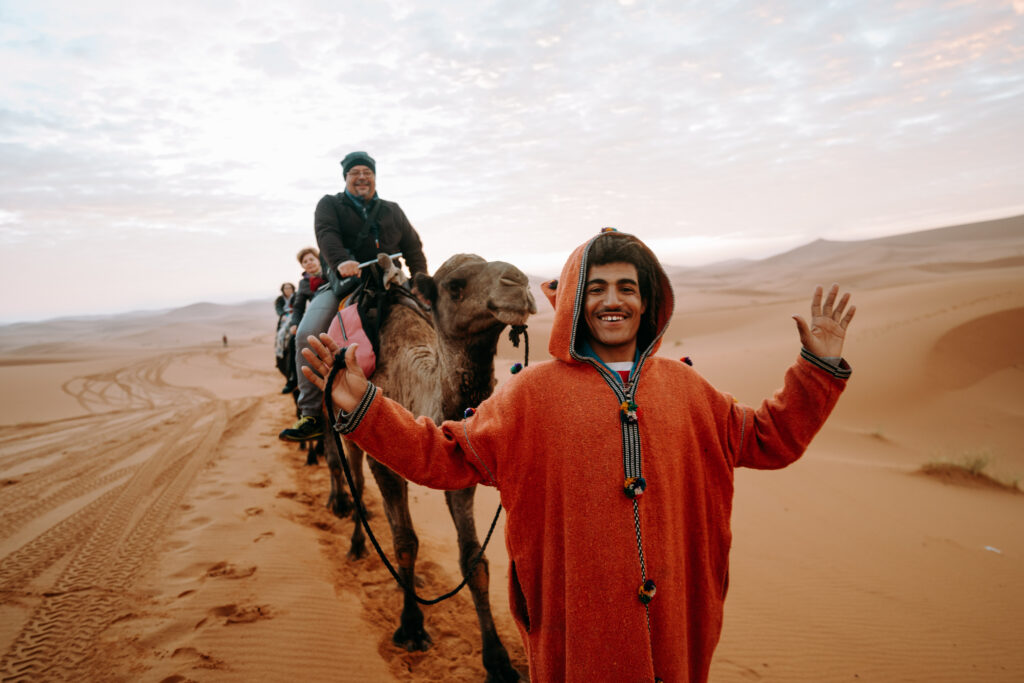 Over the years, we've gotten many questions related to planning a trip to the desert. Below, find our most frequently asked questions and what we recommend to first-timers venturing into the Sahara:
How far is the Sahara from Marrakesh? From Fez?
Marrakesh is roughly 600km (370 mi) from Merzouga, a town near the famous Erg Chebbi sand dunes, and approximately 360km (225 mi) from Zagora, near the Erg Chigaga dunes. Fez has located 470km (290 mi) from Merzouga and 670km (415 mi) from Zagora. Don't let the mileage confuse you. Much of the driving is over mountain passes and through basic, though well-maintained, highways and rural roads. Traveling from Marrakesh or Fez to the Sahara will take at least one full day of driving (anywhere from 8-12 hours), one-way. Budget your time accordingly. Keep in mind that along the way to the Sahara, there is much to see, do, and experience. We recommend budgeting a few days for your Sahara excursion to slow down the pace and take in all the cultural and wonderful landscapes you'll inevitably encounter en route.
Can I do a day trip to the Sahara Desert?
Yes, but probably not how you think you can. If you were thinking of doing a day trip to the Sahara Desert from Marrakesh or Fez, think again. If it wasn't apparent to you by now, let us just say that both cities are located a long, long, long way from the desert. You can't get to the middle of anywhere in no time! It takes an entire day, at least, to get to the Sahara from either city.
However, if you're short on time or simply aren't charmed by the idea of camping out under the stars, it is perfectly possible to explore the Sahara Desert during the day without having to spend the night in the desert. To do that, you will want to choose an accommodation as your base within striking distance of the sand dunes. To explore Erg Chebbi, choose somewhere in Erfoud or Merzouga. To explore Erg Chigaga, you'll want to stay around Zagora or Foum Zguid.
---

Should I spend one or two nights in the Sahara Desert?
Spending a night under the stars in the Sahara Desert is a once-in-a-lifetime opportunity you're unlikely to experience anywhere else in the world. That's why, if you have the time, we recommend spending more than one night in the desert. With two nights, you will be able to explore the desert at a more relaxed pace and fully immerse yourself in the traditional ways of the local tribes. Spend your day sandboarding and camel trekking and your nights singing, dancing, and stargazing! It's best to do one night in the tents out in the sand dunes and another night in one of the nearby desert towns.
I can't choose! Erg Chebbi or Erg Chigaga sand dunes?
The Erg Chebbi and Erg Chigaga sand dunes are the two main bodies of sand travelers visit when they explore the Sahara Desert. Each offers a distinct experience. As the most sought-after destination, the Erg Chebbi sand dunes are more accessible, with modern hotels located right at the foot of the dunes in the touristic town of Merzouga. This means that you can literally leave your accommodations and in about a 30-minute camel ride, crest the sand dunes into the vast Sahara.
The Erg Chigaga dunes offer a more adventurous experience and are perfect for those looking to travel off the beaten path. Located some 60km from the nearest town, M'hamid, the journey into the desert is a longer, bumpier trek — about 2 hours by 4×4 and a 1/2 day camel ride — through the rock-strewn desert until you get to the great erg. It is definitely more difficult to access, but this means that a lot of the charm of being so remote is not lost with any crowds.
Both dunes, however, offer opportunities to ride a camel, climb dunes, run the cinnamon-and-sugar sand grains through your fingers, admire picturesque views, sleep under the stars, and wake up to incredible sunrises.
Still, need help deciding? Read: Erg Chebbi vs Erg Chigaga
What do I need to pack for visiting the Sahara Desert?
There are some essentials you can't forget to pack when embarking on your desert adventure. These include:
A windbreaker or light jacket to survive the cooler nights;
Comfortable jeans or other pants to make sure your legs are protected from the camel's rough fur;
Appropriate shoes (sneakers, hiking boots, or sports sandals);
A headscarf or hat to block the sun and dust;
Chapstick and sunscreen to protect yourself from the sun;
A camera to bring home your wonderful desert memories;
A lens, camera brush, and dustproof/waterproof bag to protect your camera from the sand;
A flashlight to use at night at the campsite;
An extra day or two of any medications you need. There are not too many pharmacies in the desert.
What is appropriate to wear in Morocco's smaller villages and in the Sahara Desert?
What is there to do when you're visiting the Sahara Desert?
Morocco is a conservative and religious country, which means you always need to be mindful of your clothing choices. This is especially true in the country's more rural areas, which include the Sahara Desert and its surrounding villages. As a general rule of thumb, you should always attempt to cover body parts considered "private." For women, this means covering the arms (or at least the shoulders) and the knees up. For men, it requires covering up the shoulders and above the knee.
Beyond riding camels and stargazing, you might be surprised at the number of activities there are to do in and around the desert regions of Morocco!
Hunt for fossils. This region is rich in fossils and there are several well-known areas to be sure to find a fossil to take home.
Visit with a semi-nomadic family. With a trusted guide translating, you'll be able to understand a bit more about their way of life.
Listen to Gnawa Music. Though popularly found throughout Morocco, particularly in Essaouira, the desert is the real home of Gnawa Music. The town of Khamlia has a couple of places for you to listen to these desert grooves.
Explore the sand dunes. Sometimes there isn't anything better than hopping off into the unknown atop your favorite camel (or 4×4).
Tour Sijilmassa. Located near Rissani, next to Erg Chebbi, this ruin was once the most important trade post, linking Morocco across the desert with Egypt, Sudan, and Ghana.
Shop in the local markets. Rissani has the biggest market in the region on Tuesday, Thursday, and Saturday while Zagora has a vibrant market every Wednesday and Sunday.
At night, there is often music and campfires in the desert camps.
The desert skies come alive at night and learning more about the particular astronomy of its nomadic people is highly rewarding.
When is the best time of year for visiting the Sahara Desert?
The best time to for visiting the Sahara Desert is between May and October. Over this period, daytime temperatures are milder. During the Saharan winter (and especially in December and January) nighttime temperatures drop below freezing. Sandstorms are more frequent between January and May. The summer months (late June-early September) can be unbearably hot with July and August daytime highs often crossing 50 degrees Celsius (120 degrees Fahrenheit).
How about visiting the Sahara desert with my kids?
Traveling as a family should by no means stop you from embarking on a desert adventure! If you're traveling with children to the Sahara, there are simply some extra factors to consider in order to make the journey as smooth as possible:
Before heading out, make sure to stock up on SPF 80+ sunscreen. You'll want to apply vigorously to the entire family every 2 hours;
Pack loose-fitting, bright-colored long sleeve shirts, wide-brimmed hats, sunglasses, chapstick, and hydration solution;
Remember that you will be driving for extended periods of time. If your kids aren't used to spending hours in the car, we recommend booking a private tour or renting your own car so you can make quick stops whenever necessary;
Make sure the car's air conditioning is functioning. Children under the age of 12 are particularly vulnerable to heatstroke;
Whenever possible, have younger children sit in the shaded portion of the car. You will also want to pack a long scarf or loose shirt to use as a sunblock on the window;
A long car ride might seem boring to your kids, even if the scenery changes drastically. Remember to pack some technology-free entertainment and healthy snacks to keep them happy;
Younger children, in particular, might be scared of the camels. They are taller than horses! Make sure to have a backup plan to get to your campsite if your child is too scared to ride the camel;
Once at the campsite, you will most likely be served a traditional Moroccan dinner comprised of tagine chicken and vegetables. If your kids' taste buds aren't as adventurous, make sure to be equipped with one of your kid's favorite easy meals. Dry pasta packs well and olive oil will be available at your camp;
The desert is usually very dark at night. A nightlight can come in handy
Remember the swimsuit! Many of the accommodations just outside of the sand dunes have swimming pools.

I know there are poorer families in need. How can I help?
The semi-nomadic tribes of the desert have some of the hardest lives. Access to clean water, education and healthcare remain challenging. If you find yourself visiting a nomadic family, perhaps even invited in for a tea, it's common to give 100Dh-200Dh (about $10-$20). In truth, every little bit helps. You can also bring small toys, pencils, and paper for the children. There are various non-profit organizations working in this region, such as the Morocco Library Project and Association Aicha. If you're with a trusted guide, they can also be invaluable in letting you know the best way you can do good.
Should I book a group tour or a private trip to the Sahara Desert?
The choice to travel independently or within an organized tour is often based on personal preference and travel style. In Morocco, if you are experienced in traveling independently and are familiar with French or Arabic, it is possible to travel independently. Travel books can teach you the basics and public transportation take you pretty much anywhere within the country.
On a private tour, you will be able to dive deeper into Moroccan culture, get to interact with locals on a daily basis, and learn about some of the country's best-hidden gems with knowledgeable guides. See below for some of the private tours we offer visiting the Sahara Desert.
Does Journey Beyond Travel organize trips to the Sahara Desert?
Yes, we do! We have two circuits that you can customize. Each of these takes you into the Sahara Desert. Our 10-day Eclectic Morocco Tour will take you to some of Morocco's Imperial Cities and includes a one-hour camel ride into the desert, a sunset over the Erg Chebbi dunes, and a night in a traditional Bedouin-style tent in the Sahara. We also organize a 10-day Erg Chigaga Tour which starts in Marrakesh and takes you to the less-touristed Erg Chigaga sand dunes for two nights. All of our tours and fully customizable and you can also contact us to create your very own private tour.
If you have more questions about visiting the Sahara with Journey Beyond Travel send us a message or give us a call today.